Back to Products > > Mustang Coupe Rear Seat Delete Kit
Mustang Coupe Rear Seat Delete Kit
Fits Mustang Coupe models from 1979 to 1993.
Replaces old, torn and faded factory rear seats with this clean looking light-weight kit. Creates a concealed storage cavity under the seat portion after installation - a possible solution for aftermarket stereo equipment. Gives you a great excuse for not transporting more than a front seat passenger. This kit weighs only 18 pounds, a 20 pound savings over the factory seats. Less weight can mean less time at the track. Does not require the removal of factory seat brackets or seat belts. If your car is equipped with a roll-cage, you can modify the delete kit to fit your application. We are the designer and builder of this kit - if you see it somewhere else they are copying the original. Patent pending.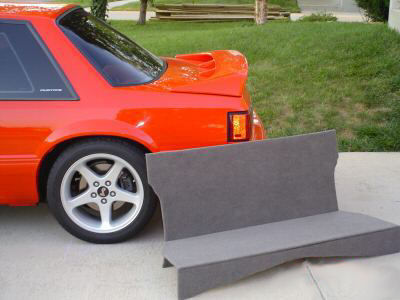 All kits are made from 1/4" plywood underlayment and covered with your choice of black or grey carpet. Custom carpet colors are available. Please contact us for more information.
Important Safety Notice:
All of these seat delete kits are designed and built to replace the factory rear seat. If you want the ability to use the rear seat to transport people and heavy items this kit is NOT for you. These kits are not meant to sit on, attach a car seat to or to place heavy items on. These kits are intended to provide a light-weight option for those who choose to take out the factory seat.&nbsp Buyers are not to use these delete kits in any manner that could endanger anyone. The buyer and all subsequent owners accept all risks associated with a rear seat delete kit.
1979 - 1993 Mustang Coupe Rear Seat Delete Kit
$119.00 each
(Add $21.50 per unit - Shipping & Handling)
Kit includes:
All necessary installation hardware
Detailed instructions
Payment Methods:

You may pay with these credit cards or with your PayPal account. Our store uses PayPal to handle credit card transactions however you do not need a PayPal account to use this service.
If you would like to pay with a cashiers check or money order, please see our contact page for more information.